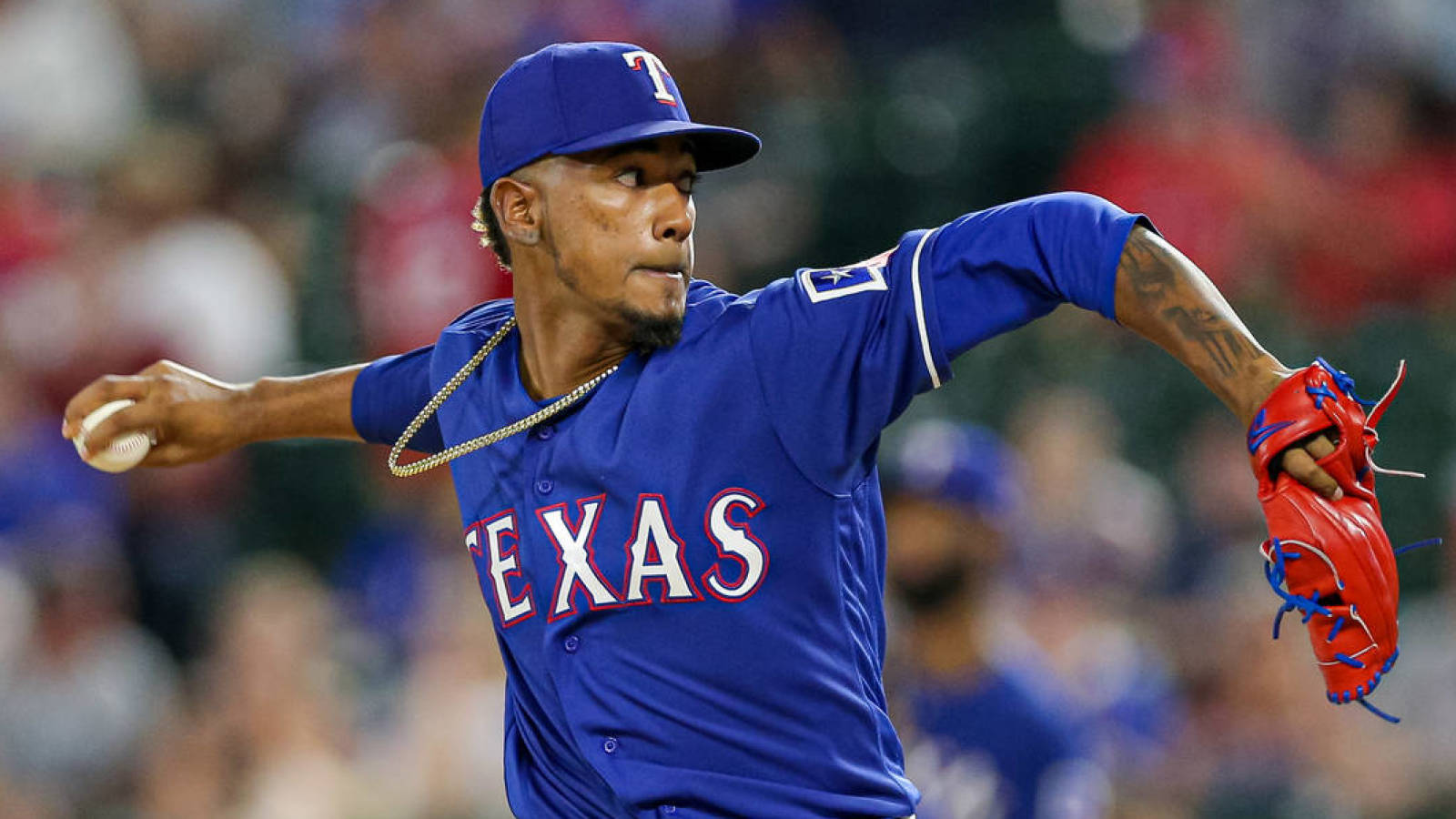 The Cleveland Indians are awaiting the results of an MRI on hard-throwing relief prospect Emmanuel Clase, the team told reporters Wednesday (link via Paul Hoynes of the Cleveland Plain Dealer).
The 21-year-old right-hander has been feeling discomfort in his latissimus dorsi (back muscle) recently, including during yesterday's throwing session, according to GM Mike Chernoff. Clase, armed with a triple-digit sinker, was the centerpiece of the trade that sent pitcher Corey Kluber to Texas over the winter.
Cleveland received the young righty and backup outfielder Delino DeShields Jr. in that swap, so any notable injury for Clase would leave the team with a part-time outfielder (and, of course, salary relief) as the immediate return for Kluber.
If healthy, Clase should factor prominently into the Cleveland pen in 2020. He made his MLB debut in 2019, pitching to a 2.31 ERA with a 21-to-6 K/BB ratio in 23 1/3 innings of relief for the Rangers.
There's more injury news to report from around MLB:
Outfielder Brandon Nimmo gave Mets fans a scare Wednesday, though details surrounding his status are still somewhat sparse. Nimmo was scratched from after the team cardiologist recommended he undergo additional cardiac testing, the club told reporters (Twitter link via Anthony DiComo of MLB.com). Manager Luis Rojas eventually labeled the extra tests as "precautionary" and downplayed the severity of the issue, but it's certainly out of the ordinary to see players go through multiple waves of cardiac examinations.
The 26-year-old Nimmo missed a good chunk of the 2019 season due to neck issues and hit .221/.375/.407 through 254 plate appearances. Nimmo has been an on-base machine in his career, as evidenced by a lifetime .254/.387/.440 slash, but the 2018 season remains the only year in which he has even played 70 games at the MLB level.
Prized Dodgers pitching prospect Dustin May is still slowed by muscle pain in his side and hasn't thrown off a mound since the first day of camp, tweets MLB.com's Ken Gurnick. May impressed in his MLB debut in 2019, pitching to a 3.63 ERA with 32 strikeouts and just five walks in 34 2/3 innings despite the fact that he just turned 22. He ranks as a top 25 overall prospect according to Baseball America, FanGraphs, MLB.com, Baseball Prospectus and The Athletic.
However, between the acquisition of David Price, the return of Alex Wood and May's early discomfort, it's not clear whether the touted young righty will factor into the Opening Day mix for the Dodgers. He could play a significant role in 2020, but he's behind the rest of the club's pitchers in camp at this point.
Perhaps no team has seen more bullpen injuries than the Phillies over the past year, and it seems that trend is continuing. Manager Joe Girardi tells Matt Gelb of The Athletic that right-hander Robert Stock is dealing with forearm tightness — possibly a flexor tendon issue. That's an ominous outlook for any pitcher, though at this point there's no definitive diagnosis. Stock, 30, is far from a household name but is on the Phillies' 40-man roster, so a notable absence would likely lead to some additional moves. He spent the past two seasons with the Padres, struggling through 10 2/3 innings in 2019 but posting a sharp 2.50 ERA with just under a strikeout per inning in 39 2/3 frames in 2018.
Published at Thu, 27 Feb 2020 02:53:16 +0000
Source: https://www.yardbarker.com/mlb/articles/touted_indians_reliever_emmanuel_clase_dealing_with_back_issue/s1_13237_31416074