Shameless is sending in Courteney Cox to challenge Lip's sobriety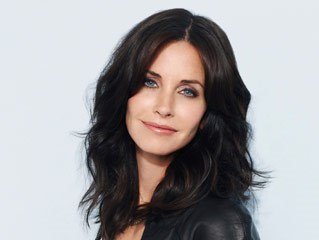 By Kaitlin Thomas,
Hold on to your butts, Shameless fans, because the long-running Showtime dramedy is padding the already super-talented cast with some additional super-talented actresses. According to Variety, both Courteney Cox and Katey Sagal are set to appear in the show's upcoming ninth season.
Cox will guest-star as a famous actress with a bit of a drinking problem. Lip (Jeremy Allen White) becomes her sober companion while she's in town and, according to the trade, she will take him on "a wild ride in search of a cocktail." Please, please, please don't let her screw up Lip's sobriety! He's worked really hard for that and he's already got enough on his plate without having to deal with Courteney Cox's issues too.
This New Shameless STrailer Proves It's Not Easy Being Gay Jesus
Meanwhile, Sagal will play a psychiatric patient named Ingrid who Frank (Emmy nominee William H. Macy) meets in the emergency room. He quickly becomes smitten with her — she's played by Katey Sagal, of course he is smitten with her! — so look for the former Sons of Anarchy star to stick around for at least a couple of episodes.
Now if the promise of a Friend screwing things up for Lip isn't enough to entice you to tune in when the show premieres in September, please remember that this season of Shameless is going to be longer than ever before. Showtime revealed last month that the season would consist of 14 episodes as opposed to the usual 12. The only snag is that the season will then be split, with half the episodes airing this fall and the other half premiering in January.
Shameless Season 9 premieres Sunday, Sept. 9 at 9/8c on Showtime.
(Full disclosure: TV Guide is owned by CBS, Showtime's parent company.)
Other Links From TVGuide.com
Published at Fri, 24 Aug 2018 19:30:00 +0000