Get high-end features at a great price with the best TVs under $1,000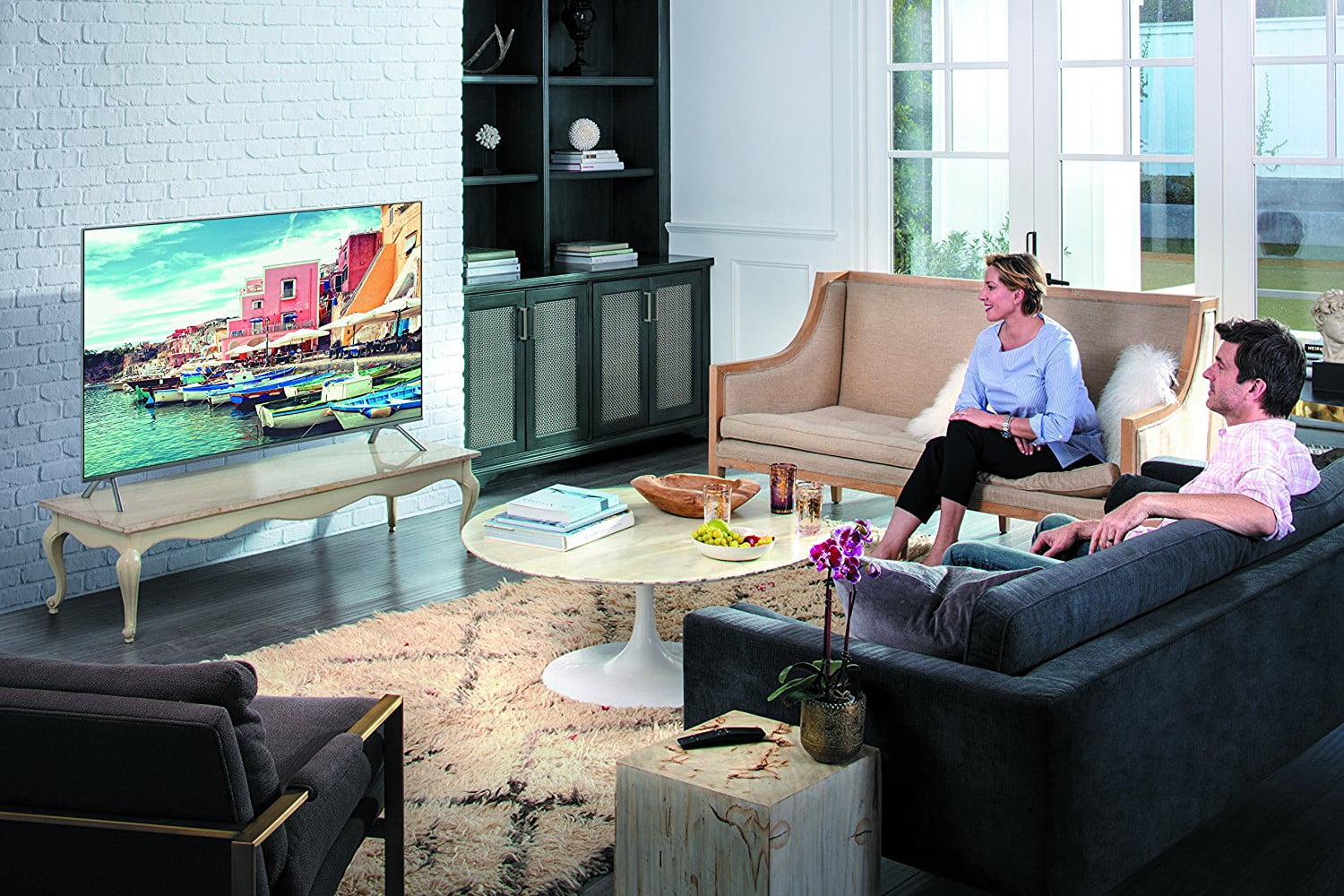 By Caleb Denison
Content Provided by
The 4K Ultra HD revolutionhas left the star-studded homes of the video elite and landed in Everytown, U.S.A. Now just about anyone can get a TV equipped not only with 4K Ultra HD resolution, but also high dynamic range (HDR)for enhanced contrast and color shading. The best news is, you don't even have to compromise on screen size anymore to save a buck — you can now get a new, large-and-in-charge ambassador of epic imaging without emptying your savings.
While it's true that 4K content hasn't kept pace with thehardware, it's now coming in from multiple directions, and the latest TVs also boast better future-proofing, the latest processing and motion technologies, and more.Follow along below for a close look at the very best TVs you can buy for under $1,000.
(Note: TV prices fluctuate often, andsome of our picksmayrise or fall in price over the course of time. Also, if you're looking for even more affordable choices, check out our picks for the Best TVs under $500.)
The Best
OK, yes, we know this TV creeps a little above the $1,000 line, but that's because it has only been released recently. TV prices gradually fall over the course of the year, and it won't be long before you'll be able to snap this up at a cheaper price. At that point, it will arguably be the best picture quality for the price, mainly thanks to Sony's top-notch processing. The X900F series boasts fantastic black levels, brilliant colors, and eye-popping brightness thanks to impressive HDR technology that includes support for HDR10, Dolby Vision, and Hybrid Log Gamma, a relatively new kid on the block.
The X900F runs on Google's Android TV platform, which not only means you get Chromecast built-in to beam a massive variety of content from your phone or tablet, but you can also buy and rent movies from Google Play Movies & TV and watch them in all of their 4K HDR glory. You'll also have onboard access to a ton of services like Netflix, YouTube, and others for even more content. Plus, the TV packs in both Google Assistant and Amazon Alexa for all the voice control you could possibly want. Currently, the 49-inch model may be the closest to $1,000, but even the 55-inch model could go for less than that at some point.
| | |
| --- | --- |
| Screensize | 49-inch |
| Display technology | LED |
| Backlighting | Full Array |
| Refresh rate | 60 Hz |
Buy it now from:
The Rest
While it might not offer the spectacle of Samsung's 2018 QLED lineup, the NU8000 is still plenty impressive and will cost you far less. The TV combines excellent brightness, deep black levels,and HDR for a great picture no matter the lighting. You won't find Dolby Vision here, but you will find the open standard HDR formats HDR10 and HDR10+ for impressive contrast. The TV also runs on Samsung's Tizen OS interface, which we consider to be among the best platforms in TV land.
Samsung's TVs also have some handy features for everyday use, including the ability to recognize just about any HDMI inputs you plug into them, label them on the screen, and automatically set up your remote to control them for serious convenience as you move through content sources. Speaking of the remote, it's the same One Remote you'll find bundled with Samsung's QLED models. At just under $1,000, the NU8000 is a steal of a deal that will bring your TV-viewing habits into the future.
| | |
| --- | --- |
| Screensize | 55-inch |
| Display technology | LED |
| Backlighting | Edge-lit |
| Refresh rate | 60 Hz |
Buy it now from:
TCL has been making great strides in recent years and its 6-Series Roku TVs show just how far the company has come. If you're looking for a 65-inch TV for under $1,000, this is your best bet, and you won't be skimping on features to get that extra size. This TV features HDR in both HDR10 and Dolby Vision formats, as well as support for Wide Color Gamut for increased color accuracy, and 120 individual local dimming zones to allow for impressively deep blacks and excellent contrast.
This TV also has great smarts thanks to the integrated Roku platform, which provides all the features of a stand-alone Roku without the hassle of plugging one in. You can even pause live TV when you're using the TV with an antenna. Despite only being released in May, this TV is already incredibly affordable, and the price will only come down moving forward.
| | |
| --- | --- |
| Screensize | 65-inch |
| Display technology | LED |
| Backlighting | Full array |
| Refresh rate | 120 Hz |
Buy it now from:
A smaller version of the 6-Series TV above, this keeps all of the great features of that TV while shrinking the size down to something you might find more manageable. The number of local dimming zones drops from 120 to 96, but with the smaller screen size, that's still plenty enough to make for deep blacks and great contrast. Dolby Vision and HDR10 are also still supported, and the Roku features are exactly the same as the model above. This might be the cheapest option on our list, but that doesn't mean it's a "cheap TV." Not by a long shot.
| | |
| --- | --- |
| Screensize | 55-inch |
| Display technology | LED |
| Backlighting | Full array |
| Refresh rate | 120 Hz |
Buy it now from:
helps readers keep tabs on the fast-paced world of tech with all the latest news, fun product reviews, insightful editorials, and one-of-a-kind sneak peeks.
Published at Fri, 25 May 2018 18:49:00 +0000