Band of the Week: The Full Counts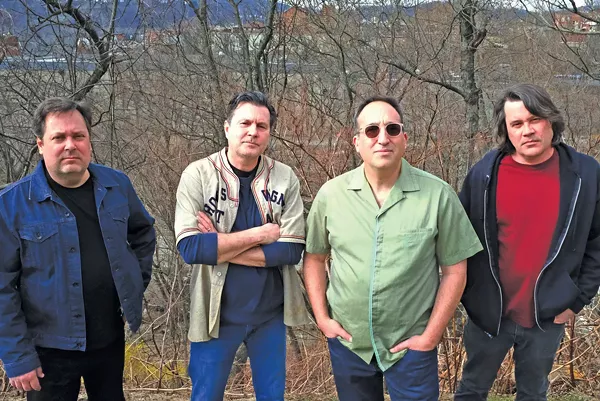 MEET THE BAND: Eric Vermillion (bass, vocals), Mike Quinlan (drums), Mark Urbano (guitar), Ethan Winograd (guitar, vocals)
A SUPER GROUP OF SORTS: This band that includes ex-members of Gumball and the Cynics came together a couple of years ago when Vermillion started jamming with Quinlan in a band called FOOD. (The name stands for Far Out Old Dudes.) "Pittsburgh is a pretty small town, and we all kind of know each other," explains Vermillion, adding that after FOOD disbanded, he and Urbano continued to play with guests such as guitarist Don Fleming from the indie rock band Gumball. "The first Full Counts record was just me and Mike [Quinlan], and I had different people play guitar," says Vermillion. "Ethan Winograd, who is now a permanent member, played on a couple of tracks too. I had never done anything that way. I had a bunch of songs piled up, and Mike just rehearsed them and built them up in the studio. When we finished the record, I realized we needed to put together a band."
MORE COHESIVE THIS TIME AROUND: Vermillion says the band's new album, Next Up, sounds more cohesive and has a great garage rock feel. "Hopefully, there's some variety in there too," he says. "Some is fast and some is slow. We grew up playing punk rock in the '80s as teenagers, and this is where we're at now. It's just rock 'n' roll stuff. We've gotten comparisons to the Smithereens, and I would've never thought of that. Ethan [Winograd], who plays lead on every song, has a lot of different sounds going on and makes the record in a way." The band cut it in Pittsburgh at Electric Eye Recorders with Mike Hickman. "He's amazing," says Vermillion. "He's a '60s psychedelic rock guy who played in the same scene as the 13th Floor Elevators. He retired and has his own studio in his house. He has a great ear, and I relate to the guy. He's great to work with."
WHY YOU SHOULD HEAR THEM: Though Next Up is particularly noisy, many of the songs feature sharp pop hooks. The track "I Know" is particularly catchy, and "Let's Go" has a Stooges-like fierceness to it. "Not Tonight" benefits from a riveting guitar solo that just doesn't quit. The band plans to put more tunes together during the winter, but Vermillion says it won't rush into recording a third album. Cincinnati's Phratry Records released the two albums, and Mike Montgomery, who plays with Kelly Deal in the Dayton-based indie rock band R.Ring, did the mastering. The upcoming show at the Happy Dog will mark the band's first gig in Cleveland.
WHERE YOU CAN HEAR THEM: thefullcounts.bandcamp.com.
WHERE YOU CAN SEE THEM: The Full Counts perform with Honolulu High and Lack of Direction at 9 p.m. on Saturday, Nov. 30, at the Happy Dog.
Published at Wed, 27 Nov 2019 06:00:00 +0000